Rogue DB25-10 Loadable Dumbbell - Stainless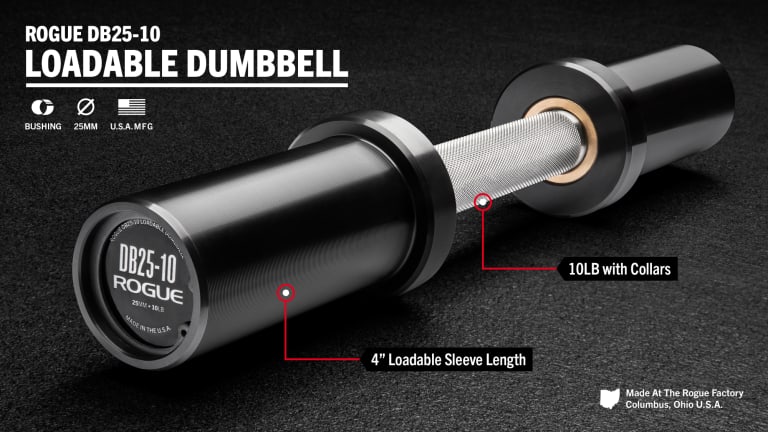 Rogue DB25-10 Loadable Dumbbell - Stainless
Ships in 7-10 Business Days
Rogue DB25-10 Loadable Dumbbell - (Stainless Shaft / Black Sleeve)
Rogue DB25-10 Loadable Dumbbell - (Stainless Shaft / Black Sleeve) w/ OSO Collars
Product Description
An alternative option to our standard DB-10 and DB-15 Loadable Dumbbells, the DB25-10 adapts its design from the Rogue Bella Bar rather than the Ohio Bar, resulting in a smaller handle diameter (25mm vs 28.5mm), reduced distance between the collars (5" vs 5.5"), and a different knurl pattern. This model also combines Bright Zinc sleeves with a striking Black E-Coat shaft finish, known for its excellent adhesion, even coverage, and overall toughness.
Read More
Rogue DB25-10 Loadable Dumbbell - Stainless
Compatible with Standard Olympic Plates and/or Our Rogue Dumbbell Bumpers
This variation of the Rogue DB25-10 Loadable Dumbbell features a stainless steel shaft and the same proprietary matte black sleeve finish first introduced on our Ohio Bar 2.0S. This advanced finishing process transforms the surface of the steel rather than coating it, greatly increasing the sleeves' long-term corrosion resistance and color endurance.
The Stainless DB25-10 is manufactured in the USA and equipped with a 25mm diameter handle, bronze bushings, and a snap-ring design–all adapted from the Rogue Bella Bar. The collars are spaced 5" apart, and an original knurl pattern provides a firm but non-abrasive grip.
As with all of our Loadable Dumbbells, this model is sold individually and offers gym owners a customizable, space-efficient alternative to storing a complete set of traditional DBs. With 4" of loadable sleeve length, the barbell-style design allows the user to make precision, custom weight adjustments with any standard Olympic plates.
Please Note: The DB25-10 Loadable Dumbbell weighs 9.2 LBS unloaded, but reaches the weight of 10 LBS when combined with a set of Rogue OSO Collars (which you can select as an optional add-on in the order menu).
See Also:
DB25-10 Loadable Dumbbell - E-Coat shaft / Bright Zinc sleeves (25mm)
Standard DB-10 and DB-15 Loadable Dumbbells (28.5mm)
Patent Pending
Gear Specs
Specifications:
Sold Individually, NOT in Pairs
Made in the USA
25mm diameter knurled handle
Shaft: Stainless Steel
Sleeves: Proprietary Matte Black finish
Total Length: 14.5"
Loadable Sleeve Length: 4"
Space between collars: 5"
Compatible with any standard Oly plates and/or Rogue Dumbbell Bumper Plates
Weight: 9.2 LB (without collars) / 10 LB (with OSO collars)
Bronze Bushings & Snap Ring Design
Load Capacity: 100+ LBS
Rogue branded endcaps
Available as package with set of Rogue OSO Collars
Shipping
Rogue Fast Shipping
The Rogue Shipping System allows you to track your order from the time you place it to the time it hits your door. Order today, track today.
Gear Specs

Brand
Rogue Fitness
Guarantee/Warranty
Lifetime Warranty *
Made In USA
Yes
Other Product Specs
Weight w/ Collars: 10LB
Loadable Sleeve Length
4"
Bar Length
14.5"
Distance Between Sleeves
5"
Diameter
25MM
Bar Type
Women's Bars
Bar Use
Specialty
Bushing/Bearing
Bushing
Bar Weight
DB25-10 - 9.2LB
Knurl
Multi
Shaft Coating
None - Stainless Steel
Sleeve Coating
Proprietary Matte Black Finish
Functioning like a barbell-dumbbell hybrid, the DB25-10 has 4" of loadable sleeve length, allowing athletes to easily adjust the weight of a single DB using the same standard Oly plates they'd load on a bar (you can also use our specialized Dumbbell Bumpers; sold separately). This makes the Loadable Dumbbell well suited for a larger gym—where multiple athletes can quickly customize the dumbbell to their own needs—or a small home gym, as it can eliminate the need for storing a full set of traditional DBs.
Built to the Same Specs as the Rogue Bella Bar
Manufactured in Columbus, Ohio, the DB25-10 is built like a miniaturized version of our women's Bella Bar, starting with a 25mm diameter, stainless steel shaft. The sleeves are machined from a single piece with a matte black finish, and include quality bronze bushings and a snap ring design. An original, precision knurl pattern also creates a firm but non-abrasive grip.
Proprietary Sleeve Finish
The sleeves of the Stainless DB25-10 undergo a new proprietary finishing process that transforms the surface of the steel rather than coating it. This greatly improves the sleeves' corrosion resistance, impact resistance, and abrasion resistance. Additionally, the coloring extends below the surface of the steel. Therefore, unlike sleeves treated with surface coatings, these sleeves will maintain their beautiful matte black appearance after extended use.
Combine with Our Dumbbell Bumpers
While our Loadable Dumbbells are compatible with any standard-size Olympic plates, we've also designed a unique cylinder-style bumper—the Rogue Dumbbell Bumper—created specifically for use with our Loadable DBs. At a universal diameter of 230mm, these compact plates create more of a centralized distribution of weight, resulting in a look and feel more like a traditional dumbbell.
Optional Rogue OSO Collars
Customers can also add a set of exclusive Rogue OSO Collars to their order at an additional cost. These distinctive, American-made barbell collars are manufactured from aircraft-grade aluminum with a rubberized interior lining to protect the dumbbell during use. Available in grey with Rogue branding in white. When paired with the Rogue OSO Collars, the weight of the DB25-10 is 10LBs
Reviews
Great loadable dumbbell
Got a pair of these. With 1 x 10 lb bumper and 2 additional 10 lb Rogue USA Olympic change plates and the Rogue USA collars on each side, you can easily fit 60lbs of plates on the 10 lb handle. Pretty sure you can fit an additional 5 lb Rogue USA Olympic change plate, but they were out of stock so I couldn't order any. This lets you go all the way to 70 lbs and probably up to 80 on this dumbbell. Better than the regular DB-10. Other combos of plates might work as well, but the 10 lb bumper sits over the end of the collar, while the 10 lb USA plates seem thinner than other plates except for the calibrated ones.
Yes, I recommend this product
Originally posted on roguefitness.com
#RYOUROGUE
Tag your photos on Instagram and Twitter with #RYOUROGUE for a chance to be featured in our gallery
View Full Gallery